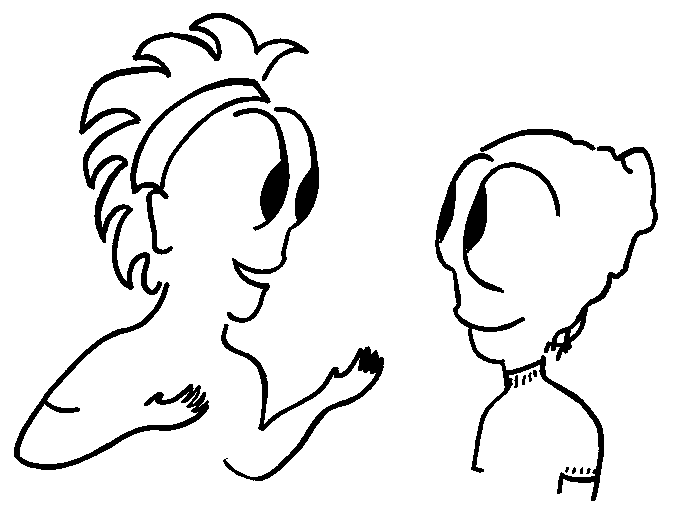 Kacie and Claire, in "Blue Flower of Happiness."
Hear the Blue Flower Diologue, read by Xander Mellish and Cherie Margaret Brooks.
"Hey, Claire," Kacie said suddenly. "I have a writing assignment for you."

I looked up at her.

"There's this new weed springing up all over the city, and it's driving people crazy. Blue flowers. Between sidewalk cracks, on median strips. I've never seen them before."

"Weed?" I said.

"I don't know what they are. But people were talking about them at the party last night, and everyone's noticed them, and I haven't see anything written about them. Just find out what they are, and where they came from."

"Why me?" I said.

"It's not worth calling anyone else for. Do it on your lunch hour, okay?" she said. "I need you to fact-check this piece about glass bowling pins. They're beautiful, but you can't use them for bowling."

It wasn't until three o'clock that I got time for lunch. I went out of the office to the median strip in front of our building, and there they were. Blue flowers, winter flowers, and bigger than ordinary weeds. They had small, heart-shaped leaves and red pistils. I tried to pull some up, but I couldn't . They had the strongest roots I had ever seen. Finally, I used a pen from my checkbook to I drew a picture of their petals on the paper bag holding my lunch, and I went back inside.
Library of Congress Copyright TXU527095