Web Writers In The Flesh kicked off its fall season on October 26, 1998, with one of its best shows ever.
Well-lubricated by the cherry liqueur and cherry chocolates provided by Five George Washingtons, Xander Mellish's new Silicon Alley satire, a crowd of about a hundred in the Gallery at 678 Broadway sat back to enjoy the show.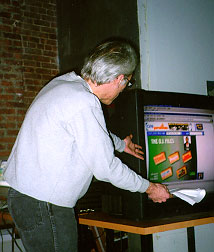 Steve Baldwin began the evening with a very funny excursion through Ghost Sites of The Web - "rusting hulks beneath the information superhighway," as he put it.
Steve showed old - old for the web, which is only five years old itself - and abandoned websites, many of them designed with giant GIFs wholly unsuitable for what was then a world of 14.4 modems. What made it even funnier is that several people in the audience had WORKED for some of the abandoned sites. Steve would like everyone to know that "Ghost Site" T-shirts are now available.
Next up was Rawle C. Jackman, whose presentation was one of the evening's highlights. In his glorious Islands accent, Rawle read four poems - all of them personal, political and often confrontational, but never hateful. He was accompanied by his friend Charles, playing a traditional West African Djembe drum.
The third reader was Maura Johnston, a web writer in the truest sense of the word. Maura runs www.bittersweets.org site, collecting bittersweet stories from hundreds of visitors. Tonight, she premiered a new project, a series of stories about creepy events on trains.
Xander Mellish then read a few character sketches from her new web novel Five George Washingtons, which, she explained, is not about George Washington at all. It's about Silicon Alley, and the one-time losers who find a niche there and become brilliant pioneers.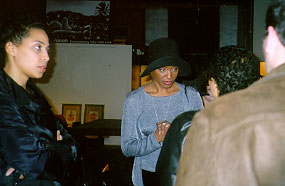 Stephanie "Steve Brownlee" McQueen was the evening's great discovery. Reading a very long poem, "Twice Sixteen", almost entirely from memory, she blew the audience away with what was one of her very first performances. After the show, Stephanie was surrounded by new fans.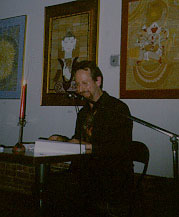 For the evening's final presentation, Jeff Bockman turned off the lights and lit candles. Playing ambient music in the background - a CD serendipitously found lying around the gallery, since the DJ Jeff had expected got his dates mixed up - he read a short, supernatural story about a Wizard in New York City.