The final Web Writers In The Flesh show of 1998 featured nothing but female web writers - purely an artifice, since web writers seem fairly well-divided by gender. Still, "Ladies Nights" always do pull a good audience, as discotheques in New Jersey long ago discovered.
The first reader of the night, at her request, was Gays of Our Lives writer Kim Ficera. Kim had the audience in stiches with an essay about society's obsession with large breasts, illustrated with shots of decidedly uncomfortable-looking bust enlargements. Such abnormalities, she decided, were useful only to "provide sarcastic lesbians with comic relief."
Next up was Steve Brownlee, an audience favorite from the season's first Web Writers in October. Steve read a straight-to-the-gut piece about the first time she'd made love, complete with a funny line about how a big dick wasn't worth much when it was attached to a man who was, personality-wise, a big dick.
Kymm Zuckert was the only Web Writers virgin at this show, but she was wildly popular with the audience. Kymm runs a continuous web diary, Hedgehog Tales, and read an excerpt about the birth of a neighbor's baby, followed by a bit about the difficulty of buying shoes when you have big feet. For the audiovisual portion of her presentation, Kymm wore the shoes she finally was able to buy.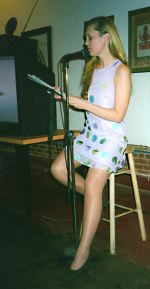 Alison Dorfman, the only web writer to appear in all three seasons of the series, was next. After some funny free verse about the various bosses she'd worked for, she read a great story about a teenage love affair conducted among crew members at a McDonald's.
The final reader of the evening, and the season, was Xander Mellish, with an encore presentation of Joel Fauré, the Melancholy Male Model. Joel looks a little bit like a light bulb, but his lonely wanderings through Manhattan, to the tune of Aaron Copeland's "Quiet City," touch us all.
See you next season!