&nbsp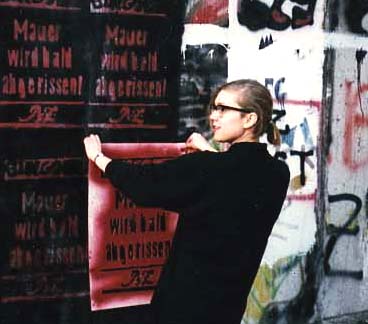 Painting on the Berlin Wall, 1987
&nbsp
 

But before I left, there was one thing I had to do. I had to paint on the Berlin wall.
Who paints on the wall? Artists? Activists? Tourists? I knew a lot of people in Berlin, and I didn't know anyone who had done it. Painting the wall actually required entering East German territory, since the communist had cleverly built the wall two meters into East Berlin, so they could maintain both sides. That said, I had never heard of anyone being bothered by the VoPos, or People's Police, while engaged in graffiti activities on the Western side.
I recruited a German friend and made a stencil of front page of that day's BT, a local tabloid. The thick headline said, in a reference to an upcoming visit by Mikail Gorbachev, "The wall will soon be torn down," which we thought very funny. Everyone knew that the Wall wasn't going anywhere.