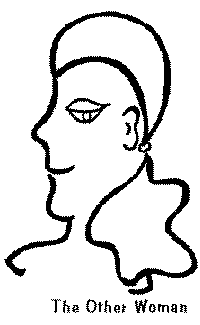 The Other Woman, In "Glory in the Golden Apple."
December 1997
News!
---
My Christmas Present To Readers: Two New Stories
In New York City, the giving of Christmas presents is always a sensitive issue. Many people are Jewish, others are agnostics, and some are Jewish or agnostic but celebrate the holiday anyway. It's all a terrible mess, forcing you to probe someone's most private feelings about the divine form before buying them a sweater.
Some of this site's most devoted readers are Jews, one or two are Muslims, and the hosts of Web Writers In the Flesh are practicing Hindus. (We read our stories in front of their shrine to Ganesh.)
However, the proprietor of this site is a Christian - as readers of stories like Blue Flower of Happiness and Giving Up Art know - so you are all getting a Christmas present. That's just the way it goes.
The first of the presents are the first pages of two new stories, King and Queen of an Empty Kingdom and Matchmaking Creeps.
Because of this site's roots in a project that posted the first page of stories, I always separate the first page of a new project from its body. It also gives me clues as to whether people read past the first page.
Full versions of these two stories aren't yet ready, although you can probably expect a draft of King in January or February.
---
In a Lonely Place: A Full-Length Story in RealAudio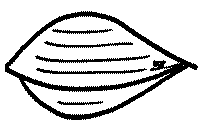 The second present was originally the idea of Patric Miller, who works with KWEB, a web radio station on the West Coast.
After conducting a RealAudio interview with me, he suggested I record a full-length version of one of the stories, to be transmitted via RealAudio. My server, InterPort, couldn't handle that kind of bandwith, but KWEB can.
The full-length reading of In A Lonely Place was recorded on September 23, 1997 in my apartment in Greenwich Village.
The players are as follows:
| | |
| --- | --- |
| Merrilyn: | Betsy Areddy |
| Aunt Trudy: | Aliza Sherman |
| Lena: | Xander Mellish |
| Toby: | Eli Catalan |
| Cook: | Angela Martinez |
The recording is about 30 minutes long, so you probably don't want to just sit in front of your computer listening to it. Stream it, and do your ironing, or something.
Oh, I did my usual bang-up job with the sound engineering. Thanks to Patric for aligning all the levels.
Web Writers In the Flesh: A Great Success!
Web Writers In the Flesh on December 2, 1997, was a great success!

Almost 200 web fiction fans turned up the Manhattan Internet Lounge in New York City to hear six writers reading in conjunction with the print publication of Coffeehouse: Writings From the Web.

Among the hits of the evening were poet Alison Dorfman, reading from the diary she kept as a ten-year-old, and Levi Asher, showing bits of his CD-ROM film, "Notes From The Underground."

For my own part, I sat in a forest of cartoon New York City spires, reading the start of Extraordinary to the music of Miles Davis' "All Blues" and the start of Glory to Duke Ellington's "Caravan."

And I did wear my orange dress from Paris. I even bought lipstick to match.