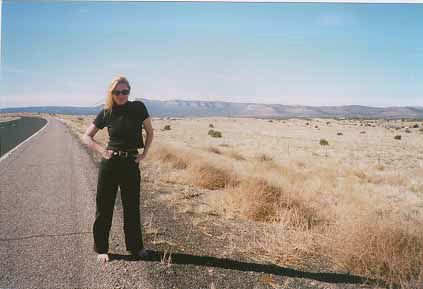 Me on Route 66 near Peach Springs, Arizona. Note lack of peaches or springs.
February 1998
News!
---
New Story: Matchmaking Creeps
I spent much of January on the road and working on Matchmaking Creeps, a fortuitous combination, since Creeps is about a vengeful stewardess.
My travels, which took me to Las Vegas, the Grand Canyon, and the magnificent red rocks around St. George, Utah, gave me the chance to observe LOTS of cranky flight personnel, as well as the opportunity to check out a lot of the little wing pins that serve as the icon for Creeps.
In order to get the details of these pins right, I was forced to inspect a lot of stewards' chests, although I understand stewardesses wear the pins, too.
As always, I'm anxious to hear your comments about this new story.
What To Expect From This Site In 1998
Matchmaking Creeps may be the last completely new story you'll see on this site for some time.
It seems as if my next project will be a novel, which at present has a name and an ending, and not much else. I have a lot of background work to do before I even start writing it, so I have no idea when the first fragments might appear on the site. July, I would imagine, at the earliest.
But there will be plenty of new material in the meantime to keep this site lively.
I've nearly finished a nine-panel cartoon strip, "The Loneliness of Joel Fauré", which will probably debut on the site in March. Drawing it was a challenge for me: I've rarely had to draw the same character more than once. But if Joel turns out to be a success, I may consider changing some of my more troubled short-shorts - such as Greta Floating, Lillian Straight Ahead - into comic strips.
Due in April, I think, is the final episode of Glory In the Golden Apple - Episode 18 or 19, at current estimate.
Glory has run for about a year, now, longer than some serials announced with a great deal more fanfare, and the ending you'll read has been planned for at least 6 months. I still feel a little sad leaving it behind.
But man - comedy is exhausting! I have a new respect for sitcom writers. It really is difficult to keep quality consistent, and sometimes I feel I haven't.
You can also expect a few revised versions of Matchmaking Creeps and King and Queen of an Empty Kingdom, as well as cartoons and voice clips to go with those stories.
The Story of Lew The Fish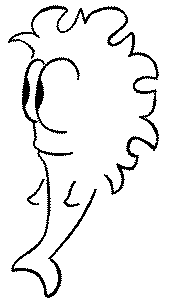 Every cartoonist seems to have a signature character, his everyman. Bob Montana had Archie; Charles M. Schultz had Charlie Brown; Thurber had his dog, Rex.
I have my fish, which was really the first thing I ever drew, and still usually the first thing I draw when I sit down for a session with my markers. Some people note that all of my characters have somewhat fish-like eyes, although men tend to compare the eyes to something else.
Anyway, as part of the whole New Yorker disaster last month, I ended up naming my fish. I was drawing, as usual, while watching videos, and was absolutely blown away by the 1930 version of "All Quiet on the Western Front" and its star, Lew Ayres. A good Welsh name, if I ever heard one!
Spontaneously, I decided to name my fish after him. Besides, "Lou" was also a nickname used by my French-Canadian grandfather, Lucien, so it really did belong in our family.
From now on, the fish is Lew.