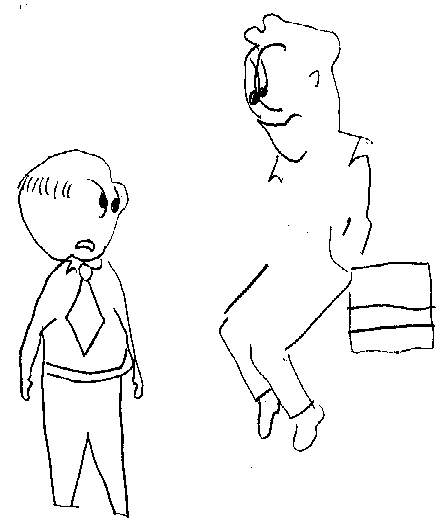 Joel and His Agent, by Chaunté Wyche
May 1998
News!
---

Web Writers In the Flesh: Regular Updates May ushers in the second season of "Web Writers In the Flesh," with three sessions scheduled for the Mondays May 4th, 11th, and 18th at the Manhattan Internet Lounge, 678 Broadway.
The line-up is terrific, and I'll be reading each evening, myself. One Monday, it'll be the opening to Amy Beauty Rose; another, it'll be a substantial portion of Matchmaking Creeps. On a third, it'll be several episodes of Joel Fauré, set to Aaron Copeland's "Quiet City." I haven't decided yet which will be performed on which night.
"Web Writers In the Flesh" came about partly because I'd been rejected by every print reading series in the city - mostly because I didn't have a book to promote. If I didn't have a BOOK, then I wasn't a WRITER, went their rationale.
Well. Actually, it's always good to be spurned a little - it lights a fire beneath you and makes you better.
I'll be posting regular updates - and photographs, if I have them - after each reading, on the Web Writers In The Flesh Site.
---
Severe Praise, and Criticism: New Words From Readers
I try to update the Readers Speak section about once every three months, and this time I've added a couple severe criticisms I've received in the past couple of weeks.

One was from reader Gerald of Ireland. "When I first stumbled across your site I was really taken aback. The first three or four stories I read seemed fresh and innovative. However, the more I read, the clearer the limitations of your stories become," he notes. "You seem to be standing still rather than progressing in any real way. You need to stretch yourself."

Gerald's candor is appreciated, although the two stories he dislikes most - "Extraordinary" and "White City" - are the oldest on the site, so maybe I AM progressing.

Harsh criticism really doesn't bother me - a casualty, I guess, of all those years as a journalist, having my stuff blue-penciled by editors of varying talents. People say what they say, and I can pretty much take it or leave it.

Besides, I'm particularly open to other opinions at this stage of my career, when I can take positive action if some critic's words really hit the spot. As I've said before, I think artists tend to get frozen in the style they have when they first become successful - that's when fans and detractors take their positions, and the detractors, at least, are unlikely to ever switch sides.
---
My Protégé Contributes A Cartoon
This month's cartoon is the work of Chaunté Wyche, whom I tutor weekly.

When a volunteer center assigned me to Chaunté a year ago, we were supposed to be working on elementary reading and writing, because Chaunté was supposedly slow. What I soon realized, however, is that Chaunté APPEARED slow only because she doesn't give a fig for spelling, capital letters, or punctuation. She isn't much for multiplication tables, either.

She does, however, have real imagination and a fine mind, as evidenced by her passion for writing stories and drawing cartoons. Our reading and writing practice soon turned into discussions of the classics, art history, geography, and politics as well as lessons in journalistic style. Over the course of time, she has evolved from a student to a sort of protégé.

These days, Chaunté is perhaps the only 10-year-old in Harlem who knows Orpheus from Oedepus, and the proper reasons to hate Baroque painting. I have also dragged her to see the New York City Ballet, although she spent much of Peter Martins' "Stabat Mater" counting faux diamonds in the theater chandelier. (She did win points, however, by immediately falling in love with Jock Soto, long one of my favorite dancers).

Chaunté enters public junior high school next year, and her mother is trying to get her into a good one. In the mean time, she and I are working on the spelling, capital letters, and punctuation.