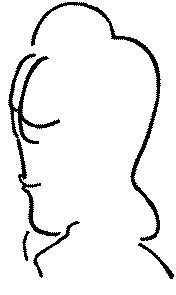 Mildred Pierce, after Joan Crawford and Constantine Brancusi
July 1998
News!
---

My Summer Reading List
As regular visitors may have noticed, there haven't been any new stories added to this site since "Matchmaking Creeps" in February.
That's because I've been working on a novel, the first bits of which will, I hope, will be ready in time for the site's third anniversary in September.
At this point, the novel is only in outline stage, which allows me to do a lot of reading. I never read other people's fiction while I'm actively writing; I'm much too suggestible.
Killing time making a list of my ten favorite novels one day, I discovered they were all character studies, largely of deeply flawed characters. (So are my favorite movies, among them Peter Lorre's "M" ; Edward G. Robinson's "Little Caesar"; and Tom Hulce's "Amadeus"; so is my favorite ballet, Balanchine's short "Prodigal Son.")
In no particular order, here are the books I'm re-reading this summer: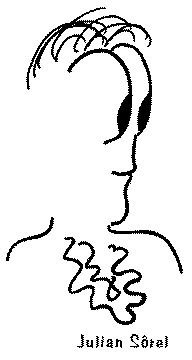 Stendhal, Red and Black, 1830
You can't beat this account of ambition, sex, and treachery in post-Napoleonic France. And the hero, Julian Sôrel, is quite a hot tamale.
Samuel Butler, The Way of All Flesh, 1890
One of the funniest attacks on human vanity and self-righteousness ever. Look for the bit about the museum-goer making sure everyone notices his silent contemplation of great art.
Theodore Dreiser, Sister Carrie, 1905
Get a condensed version: Dreiser tends to run on a bit. He also likes to interrupt the story with little socialist lectures, one reason he was a hit in the old Soviet Union. That aside, this story of a girl who leaves Wisconsin at age 18 for vast success in New York is a great character study. In its time, the book was condemned as immoral; these days, it can be fun trying to find the sex in the heavily-disguised sex scenes.
Vladimir Nabokov, Lolita, 1955
Nabokov's language is matchless, the product of a brilliant verbalist introduced to English as a second language - I particularly like the "death-sized wax figure" lying on the grass after a car accident. Yet I'm even more attracted to the pathos of the title character, a love object never truly loved by anyone until the very end of her short life.
James M. Cain, Mildred Pierce, 1940
One of the best books ever written by a man about a woman. Mildred Pierce, with her pride and her pies, is one of the most fully realized characters I've ever seen on paper. Her obsessive love for her monstrous daughter, Veda, is brilliantly drawn.
George Gissing, The Odd Women, 1893
Actually, I think I'll re-read Gissing's 'New Grub Street' (1891) instead - it's a story set in the era of the last big revolution in fiction publishing, the typesetting machine, and I'd like to do something similar with my novel and Silicon Alley.
But I still prefer "The Odd Women," a Victorian-age portrait of four single women and the choices each of them make about marriage. Another example of a man writing very well from the perspective of women.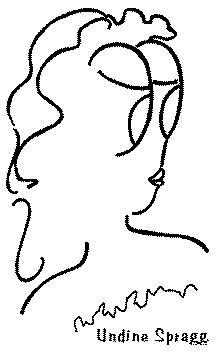 Edith Wharton, The Custom of the Country, 1913
The mediocre "Age of Innocence" gets all the press, but I prefer the heartbreaking "House of Mirth" and this book, with its beautiful and supremely selfish heroine, Undine Spragg.
Budd Schulberg, What Makes Sammy Run?, 1941
Schulberg's writing is rough and some of his supporting characters are as thin as a paper dolls, but Sammy Glick, the obsessively ambitious Hollywood social climber, is ugly portrait of the American dream. Cheating his way to the top, Sammy finds himself wildly successful and utterly alone. Fifty years after its publication, this story has never been filmed.
Patricia Highsmith, The Talented Mr. Ripley, 1955
The misogynist Miss Highsmith is best known for her script for the Alfred Hitchcock movie, "Strangers On A Train," but I prefer this tightly plotted, vaguely homoerotic story of a lazy drifter who kills his best friend in order to steal his identity and his fortune. The movie version, "Purple Noon," stars the gorgeous Alain Delon in his prime, and has a different but equally clever ending.
Gail Parent, Sheila Levine Is Dead and Living In New York, 1972
The dreadful "Bridget Jones' Diary" gets all sorts of press, but this post-modern classic appears to have been forgotten. It's written in the form of a comic suicide note from Sheila Levine, a Jewish girl from Long Island, hilariously bitter because no man will marry her and make her a housewife.
.
These, of course, are my favorite NOVELS - my favorite short stories, by writers like Salinger, Thurber, and Ambrose Bierce, would make for a different list entirely.
By the way, I intentionally did not include F. Scott Fitzgerald's The Great Gatsby. Prospective writers should NOT read Gatsby. It is simply too good, and will make them want to give up writing forever and sit around the house watching cartoons on television.
---
On The Use Of Real People In Stories
Site fans, and friends of his, will notice a character named after my favorite dancer, Jock Soto, in the current episode of Joel Fauré, Melancholy Male Model.
Frankly, the character doesn't look like Jock - unskilled artisan that I am, I have trouble reproducing faces - and the real Jock has never been a male model. Nor does Jock's date in the story look, to the best of my knowledge, like anyone the real Jock has ever dated.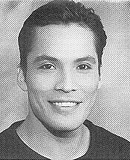 Actual Jock
The real Jock IS, however, a generally cheerful and likable person, not unlike his happy namesake.
But this raises the eternal question raised of the fiction writer: precisely what or whom is based on the truth?
There are a few examples on this site of direct steals from the real world: in "Giving Up Art," for example, several of Claire's friends bear the names of my actual girlfriends.
In general, however, my stories are based less on actual events than on ideas and daydreams, and there is a bit of myself in each character. I've found, through sad experience, that if I put all of myself in one character and all my opponents in others, it comes out like a harangue.
I like the idea of putting together a story like a puzzle. I never understand people who spend time doing crosswords or seek-a-words - why don't they make something, create something, with all that time and brain power?